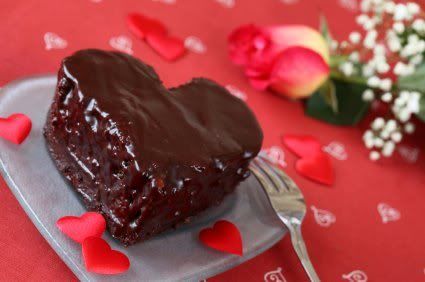 If you're lacking in the Valentines Day gift department, what's better than baking up some goodies for your sweetie? Here's a recipe that Korbel shared today ~ Champagne Cake of course. I can't wait to try it out!
Happy Valentines Day ~ Bon Appétit!
Lenny



CHOCOLATE CHAMPAGNE CAKE
3 cups flour
2/3 cups unsweetened cocoa
2 tsp. baking soda
2 cups sugar
1 tsp. salt
2 cups KORBEL
1/2 cup + 2 tbsp. corn oil
1 tbsp. vanilla
2 tbsp. lemon juice
Preheat oven to 350. Grease two 9" cake pans, line with parchment paper. Mix together the flour, cocoa, baking soda, sugar and salt into a large mixing bowl. In a separate bowl, mix together KORBEL, oil, vanilla and lemon juice. Then mix the wet ingredients into the dry ingredients at high speed until well mixed. Pour the batter into prepared pans. Drop cake pan onto the table from about 3 inches high to release any bubbles. Bake in preheated oven for 30 minutes. Cool completely before icing.

RICH CHOCOLATE ICING
10 oz. unsweetened chocolate
2 cups heavy cream
2 cups sugar
1/2 lb. butter (unsalted)
1 tbsp. vanilla extract
Bring sugar and cream to a boil, reduce heat and simmer 6 minutes, remove from heat. Add chocolate while stirring, add butter and vanilla. Place mixture in an ice bath and stir gently until desired consistency.
Find me on Twitter