I've baked this pie at least a half dozen times. Fresh. Delicious. I share my easy-to-make pie crust below. Pie crust isn't that hard to make. It's so easy and such better tasting than store bought.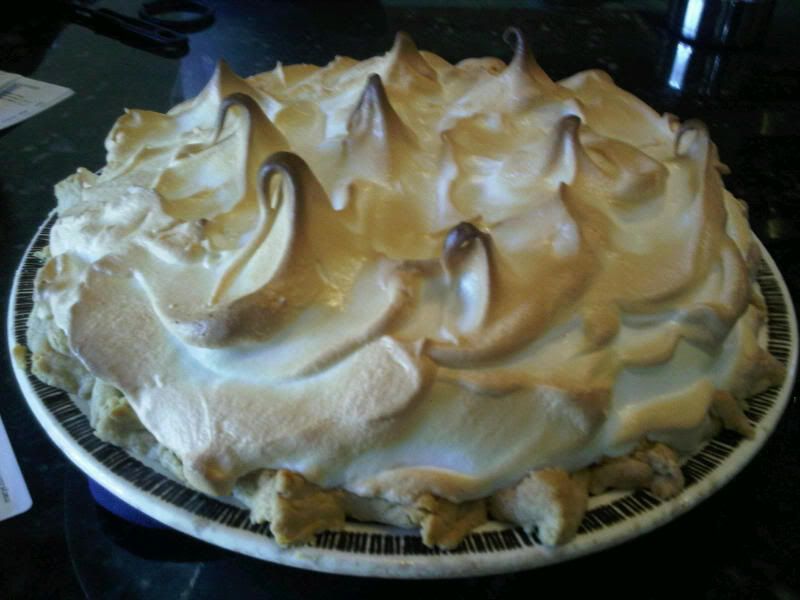 Two suggestions for this recipe. You don't necessarily need the food coloring. And, you can cut the sugar back to 1 cup. It calls for 1 1/2 cups. Unless you like it really sweet, cut it back to 1 cup, even a little less than a cup if you like a more tart lemon pie.

Click image to enlarge.
Prep: 30 mins.
Cook: 10 mins.
Bake: 15 - 20 mins.
Serves: 8 - 10
Carefully measure the water and the lemon juice in the filling to hold a consistency when cutting.
Baked Pie Crust (see recipe at the bottom)
3 large egg yolks
1 1/2 cups sugar
1/3 cup plus one tablespoon of cornstarch
1 1/2 cups of water
3 tablespoons of a stick of margarine or butter (spreads with at least 65% vegetable oil can be substituted)
2 teaspoons of grated lemon peel (This is optional. I don't add it to mine)
1/2 cup of fresh squeezed lemon juice (from real lemons ~ suggested)
2 drops of yellow food coloring, optional
Meringue (see below)
1. Prepare baked pie crust.
2. Pre-heat oven to 400°.
3. Beat egg-yolks with a fork in small bowl. Mix sugar & cornstarch in 2 qt. saucepan. Gradually stir in water. Cook over medium heat, stirring constantly until mixture thickens and boils. Stir and boil for an additional minute.
4. Immediately stir at least half the hot mixture into egg-yolks, then stir back into (egg-yolks mixture) hot mixture in saucepan. Boil & stir for 1 minute; remove from heat. Stir in margarine, lemon-peel, lemon juice and food color. Pour into pie crust.
5. Prepare meringue for 9-inch pie. Spoon onto hot pie-filling. Spread over filling, carefully sealing meringue to edge to prevent shrinking or weeping (no matter what I do, the pie always weeps, ha ha). Form peaks with meringue.
6. Bake 8 - 10 minutes or until meringue is light brown. Cool away from draft - and refrigerate.
1 serving: Calories 425 (calories from fat, 145); Fat, 16g (Saturated 4g); Cholesterol 80mg; Sodium 210g; Carbohydrate 66g (dietary fiber 0g); Protein 4g.
So good, yet sooo bad!
Meringue
Making meringue is so easy - with just sugar and egg whites. Take the 3 egg whites from the yolks above. I sometimes add an extra egg white or two to give me more to work with. Add 1/4 cup of sugar or a little more to give it a more sweet edge. It's good to have a sweeter meringue if you have a more tart lemon filling. Beat on high until peaks form and whites are thick and fluffy.
Pie Crust
I've baked with shortening and oils since I was young. I find the crusts with shortening are the best. Feel free to use any pie crust recipe - but this one is quick and easy and beats any store-bought.
Rolling pin & wax paper will be needed.
Preheat oven to 350°
1 1/3 cups of all-purpose flour
1/2 teaspoon of salt
1/3 cup of vegetable oil
3 tablespoons of cold milk
See images below.
In mixing bowl add flour and salt - mix in the salt. In the 1/3 cup of vegetable oil, drop the 3 tablespoons of cold milk. Quickly mix oil/milk into the dry ingredients, flour and salt and quickly stir with a fork until wet mixture is absorbed by four and salt. Pick up and mix with hands for a minute and form a ball of dough.
Place dough between two pieces of wax paper on counter-top. You may want to lightly moisten the counter-top with a damp sponge so the wax paper won't move. Press the dough between the wax paper and roll out dough flipping the wax paper from one side to the other. As it's just about done, lift the wax paper from one side and then lightly place back on the dough, flip and lightly pat the other side lifting the other side of the wax paper. Peel off the wax paper and flip into your pie plate; press down into the pie plate and peel off the dough at one edge from the wax paper. This should allow you to peel off the wax paper and form your edges to your crust.
Prick the crust with a fork and place in pre-heated oven to bake, approximately 10 - 15 minutes, until crust is golden brown. Remove from oven and cool. When baking an apple pie, you will want to double the pie-crust recipe - using uncooked dough of course when placing your apple mixture into the crust and covering it.
Click on thumbnail to enlarge.
This pie crust may take some practice, but it's so worth it and delicious. You will master it in no time ~ Enjoy!